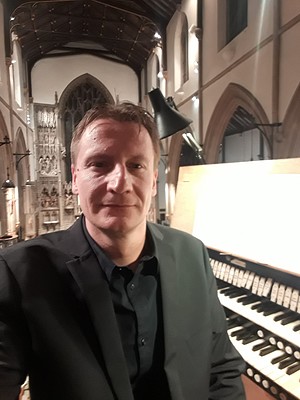 Levente Kuzma was born in Gothenburg, Sweden. He started taking piano lessons at early age with his father, who also played organ, Robert Kuzma. He holds a Bachelor's Degree in Music Education, as well as two Master's Degrees in Organ Performance and Organ Pedagogy from University of Szeged. Levente is also holder of the "Method and Art of Zoltán Kodály" certification. Mr. Kuzma has participated in masterclasses with Jacques van Oortmerssen and Joris Verden at the Göteborg International Organ Academy (GIOA).
He won prizes in numerous organ competitions, including Organi Storici del Basso Friuli in Muzzana del Turgnano in 2009, International Organ Competition Vicenza in 2010, and The Alexander Goedicke International Organ Competition in Moscow in 2011. He earned 1st place in the "Timorgelfest" International Organ Competition Timisoara (Romania) in 2009.
Mr. Kuzma appeared as a featured artist at notable venues including St. Andrew Holborn Church in London, the Great Hall of the Tchaikovsky Conservatory in Moscow, Oliwa Cathedral in Gdansk, Liebfrauenmünster in Ingolstadt, Turku Cathedral in Finland, the Béla Bartók National Concert Hall in Budapest, Abbey of St. Gallen in Switzerland, St. Lorenzo Cathedral in Perugia and the St. Mungo's Cathedral in Glasgow.
He has performed with the Hungarian National Orhestra, the Szeged Symphony Orchestra, and the Filarmonica Banatul Timisoara and the Filharmonica Arad in Romania. His repertoire reaches from the Rennaissance to the 21st century, including world premiere performances of hungarian composers.
In November 2019, Mr. Kuzma launched the sixth edition of the Terra Sancta Organ Festival in the Holy Land with solo recitals in Israel and Palestine at the St. Peter's Church (Tel-Aviv-Jaffo), Basilica of the Annunciation (Nazareth), St. Saviour Monestary (Jerusalem) and St. Catherine Church/Nativity (Bethlehem/Palestine).

Levente Kuzma currently the professor of organ at the University of Szeged Béla Bartók Faculty of Arts, serves as music director at the Piarist Church in Szeged and also serves as principal of "Lieto" School of Music and Arts. Since September 2018, Mr. Kuzma is the Artistic Director of the Cathedral Concert Series at the Cathedral of Our Lady in Szeged.
His debut solo album, Masterworks, was released in 2017 on the Waltman's Artists (UK)